Mortgage Insurance Basics
60 minutes
Who Should Attend:
Mortgage professionals new to the industry OR those looking to refresh their knowledge of MI
Overview:
Max Karl, a Milwaukee real estate attorney, found a better way for lenders to originate low-down payment loans when he founded MGIC in 1957.
Today, the mortgage industry offers more financing alternatives for high-LTV lending, yet mortgage insurance remains one of the safest, most affordable options for both lenders and borrowers.
Join us for this fundamental webinar and get acquainted — or reacquainted — with the basics of mortgage insurance. You will:
Consider, compare and conclude which options are best for borrowers
Understand what MI is and how it works
Demystify some of the misunderstandings and misinformation surrounding MI
Learn how to calculate MI rates based on popular premium plans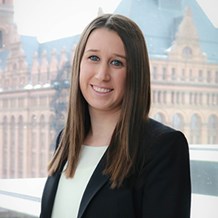 Elizabeth Martin
Elizabeth serves as an Inside Sales Representative at MGIC, supporting the sales team and working collaboratively with them to set account strategies and deliver tools and resources to customers. Prior to joining the company in 2019, Elizabeth worked in financial services for an investment bank. Elizabeth graduated from DePaul University in Chicago with a bachelor's degree in Finance. She resides in Oconomowoc, WI, with her husband and is an avid fan of Wisconsin sports teams.