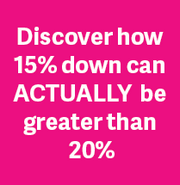 Thanks for the great idea - my borrower is super excited!
"The idea you brought to me was exactly what I needed for one of my borrowers. We got to lower his down payment to 15% down. He gets to keep $20,000 and only bring $540 to closing for it! He's super excited and so am I! Now he'll get priority underwriting."
-Margie, Missouri Mortgage Originator
Discover how you and your borrowers can count on the benefits of a 15% down payment vs. a 20% down payment.
Learn how 15 is greater than 20.