Harriet – a.k.a. my mom – used to preach to me, "Never put off until tomorrow what you can do today."
She pulled out that old adage to nudge me to do something she wanted done now, but that I, in all honesty, didn't really care to do – today or tomorrow, for that matter.
In contrast to her anti-procrastination advice, to avoid giving in to my request for something, she preferred "Good things come to those who wait."
I didn't really care for that little sermon on patience while I was growing up, and I'm not any more of a fan now that I am older. I especially don't like it as advice – relative to saving for a 20% down payment – to young adults who want to be homebuyers.
The fact of the matter is that waiting to save a 20% down payment can very likely cost prospective homebuyers.
As mortgage professionals, we must help counter this misinformed idea. Let consumers know – especially those looking to buy their first home – that waiting to save up 20% is not the only option, and they may be better off buying a home today with a smaller down payment rather than waiting.
And we just created a tool to help you illustrate that point.
Our new Buy Now vs. Wait calculator provides a detailed comparison so consumers can understand their options. The Buy Now vs. Wait calculation begins with some basic information: current rent, monthly savings and credit quality. Next, the calculator requests a desired home price, current down payment savings and an estimated interest rate.
Buy vs. wait example
Let's assume someone is saving for a 20% down payment on a $200,000 home. She has saved $10,000 of the $40,000 she needs for a 20% down payment and can add $500 to savings each month – $6,000 a year.
Our calculator will help her see she could buy a home with as little as 3% down, and the cost if she were to purchase today with 5% down (the amount she has available today).
It also shows that if home prices appreciate at 3% annually (the user can adjust that value), her future 20% down payment will need to be $48,552 and take her more than 6 years to save.
During that time, she will have paid more than $80,000 in rent while her home equity position would be more than $72,000 had she bought 6 years ago.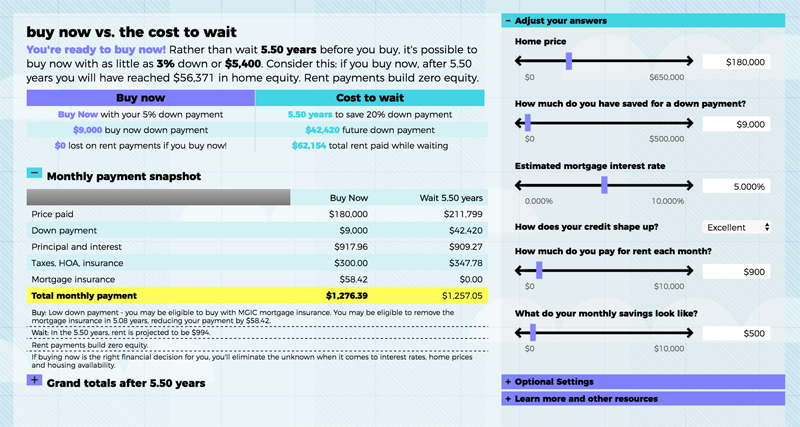 None of this is meant to encourage a prospective borrower from buying a home before they are ready. It is in everyone's best interest for borrowers to succeed, so borrowers need to be comfortable not only with the mortgage payment but also the other responsibilities that come with homeownership.
However, many who want to own a home simply do not realize they can buy with less than 20% down and many more have not stopped to consider that there is a cost to waiting.
We can help these would-be homebuyers by slightly modifying Harriet's words of wisdom: Never put off until tomorrow what you can actually afford today.